Wood Pellets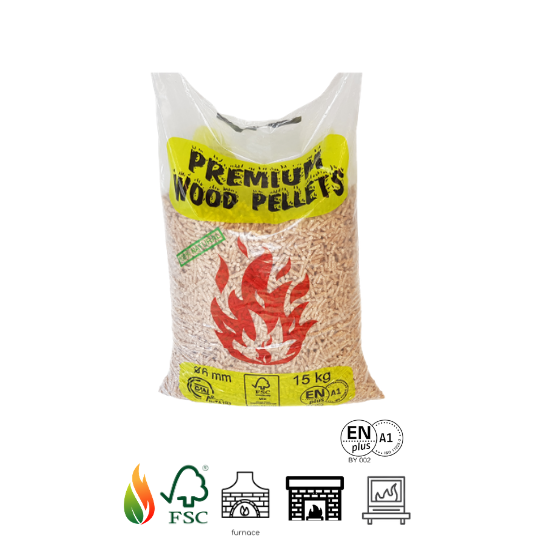 Wood pellets have been accredited with the ENplus A1 standard, a quality guarantee ensuring clean combustion and excellent heat value. They are not registered on the Biomass Suppliers List (BSL) and are not eligible for Renewable Heat Incentive (RHI) repayments.
Fuel pellets are widely used in recent years, environmentally friendly biofuel, which is produced from coniferous species of wood (spruce, pine) without addition of chemical components
Pellets compared to traditional kinds of fuels have the following advantages: high bulk density – not less 600 kg/m3;
Calorific value 4.3-4.5 kW/kg, which is 1,5 times more than of wood and can be comparable with coal;
Constructional features of furnaces allow to automate the process of obtaining the required amount of thermal energy;
Combustion of pellets in furnaces is more effective - amount of residue (ash) is not more than 0,5% of the total volume of used pellets;
Wood pellets are more ecological than traditional fuels: emission of carbon dioxide in the air is 10-50 times less, formation of ash is 15-20 times less than during coal combustion.
Pellets, which are produced by our company, comply with the requirements of STB 2027-2010 and requirements of the European standards EN ISO 17225-2 (DINplus-A1), DIN EN ISO 17225-2 (ENplus-A1).
Wood pellets are made from debarked spruce wood.
Packed in 15 Kg strong, clean bags.
Genuine EN PLUS A1 certificate FSC Ⓡ 100%
No additional binders or impurities are used in the production, which is 100%. wood fuel.
| | |
| --- | --- |
| Ash melting point | Above 1450C |
| Diameter | 6 mm |
| Max moisture content | <6% |
| Ash content | 0.2-0.5% |
| Calorific value | 4800 kcal/kg |
| Weight per bag | 15kg |
| Product Standard: | ENplus A1, BY002, FSC |
Categories
Browse by categories